Activities Aiming for a Society with Zero Fatalities and Injuries from Traffic Accidents

Wide-ranging initiatives, from education to data-driven accident reduction
Toyota Mobility Foundation (TMF) aims to reduce fatalities and injuries from traffic accidents to zero through "Integrated Three Part Initiatives" involving people, vehicles, and the traffic environment. These efforts include education focused on children and the elderly, technology and data utilization, and infrastructure improvements in collaboration with local governments.
1.Education
A popular character among children in Japan explains traffic safety
TMF uses the popular children's character to produce drills and games that offer elementary school students a fun way to learn about traffic safety. These materials are widely distributed and publicly available.
The number of fatal pedestrian traffic accidents in Japan is particularly high among 7-year-olds, when children become more independent as elementary school students and begin commuting and playing by themselves. To reduce accidents, it is important that the children are armed with the correct knowledge and engage in safe behaviors.
To address this issue, the drill series teach basic traffic rules and key safety points when walking or riding a bicycle, covering the various scenarios that children encounter on their way home from school.
The online game, available publicly on the internet, is aimed mainly at middle and upper elementary school students. It consists of 30 questions on topics such as walking and cycling safety, precautions for the playground, and what to do in the event of an accident.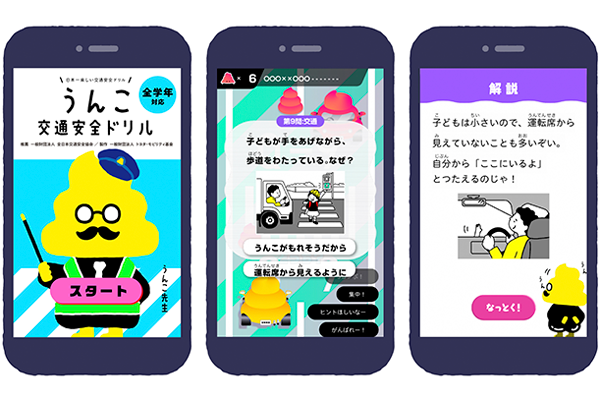 Comprehensive information site, Elderly Driver.com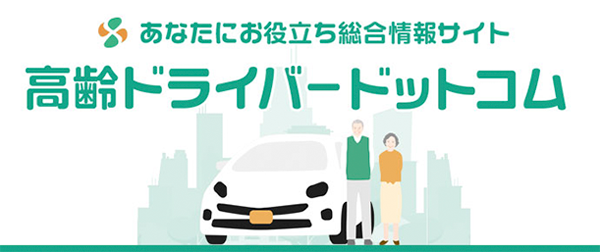 In August 2020, TMF launched "Elderly Driver.com," a comprehensive website bringing together useful information for elderly drivers and their families.
Even as the total number of traffic accident fatalities steadily decreases, the proportion of those accidents caused by elderly drivers (75 years and older) is gradually rising, creating a major social issue. With the number of elderly license holders set to continue growing, improved safety measures for these drivers are urgently needed.
The site provides detailed information and advice to help resolve the everyday concerns, uncertainties, and questions of elderly drivers and their families.
It is full of practical information, including a driving ability assessment that can be completed by simply answering questions, and an introduction of the new driving skills test that was introduced in May 2022.
A driving ability assessment for elderly drivers and their families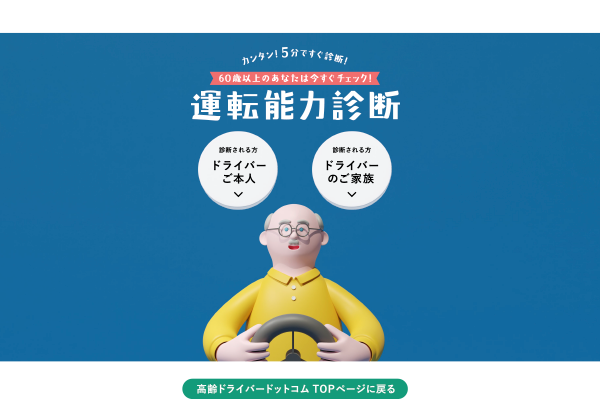 Information for the families of elderly drivers includes expert advice on areas such as checkpoints for monitoring driving ability as a passenger, ways to discuss returning one's license voluntarily, and the process for making that decision.
2.Technology & data utilization
"Zero Accidents Campaign" in Toyota City, Aichi
In July 2021, TMF launched the "Zero Accidents Campaign" in collaboration with Toyota City, which is working on accident prevention. The project seeks to develop a model for joint public-private traffic safety initiatives that can be adopted in other regions, with measures including systems that use car and infrastructure communication technology to assist safe driving, road environment improvements based on vehicle data, and pilot initiatives in cooperation with local communities and residents.
The project involved four initiatives: the use of vehicle probe data; a safe driving diagnosis service for the elderly using information from drive recorders; the establishment of a database for resident close call incidents; and the installation of ITS smart poles, which use cameras and sensors mounted on posts and utility poles to detect approaching vehicles and alert drivers and pedestrians of collision risks.
To address the issue of older drivers in particular, from October 2022, TMF ran large-scale trials using DENSO's drive recorder AI analysis technology, working with Tokio Marine & Nichido Fire Insurance and the University of Tokyo to test ways to effectively reduce accident risk among the elderly.
Reducing traffic accidents by rental car users
In tourist hotspots such as Okinawa and Hokkaido, accidents caused by foreign travelers driving rental cars have become a regional issue. To address this problem, TMF collaborated with sectors involved in the car rental business, including the automotive, tourism, and airline industries, to carry out accident-reduction initiatives on the main island of Okinawa Prefecture.
These initiatives combined pre-departure information via interactive videos, alerts in high-accident locations via an onboard app, driving assessments, and coupon incentives. The result was a marked change in customer behavior, including a sharp decline in speeding, sudden starts, and abrupt acceleration/deceleration. From October 2022, these cross-sector efforts were further bolstered by the participation of researchers from the University of the Ryukyus and the University of Tokyo, and the use of driving data provided by Toyota Motor Corporation.
"Visibility Check" software assesses how well clothing can be seen by drivers
In September 2022, in collaboration with the National Mutual Insurance Federation of Agricultural Cooperatives, TMF developed "Visibility Check" software that can simulate how well an individual's outfit stands out to drivers.
Traffic fatalities are highest between 5:00 p.m. and 7:00 p.m. In this dusk period, the number of fatal "car vs. pedestrian" accidents in those hours is approximately 3.6 times higher than during the daytime. Moreover, while it is important for drivers to be able to see pedestrians to prevent accidents, only a small proportion of pedestrians are mindful of the effect of their attire.
The Visibility Check software is based on Iwasaki Electric's QUAPIX technology for evaluating the brightness of one's surroundings. It simulates how a pedestrian appears at different distances during three time periods (daytime, dusk, and night), providing users with a "diagnosis chart" with their results and clothing advice.

DOWNLOAD AGREEMENT
All materials on this site are for personal or editorial use only.
The use of these materials for advertising, marketing or any other commercial purpose is prohibited.
To download these materials, you must agree to abide by these terms.