Traffic Congestion Mitigation Project in Bangkok, Thailand
Cross-sectoral collaboration in Bangkok
Since 2015, Toyota Mobility Foundation (TMF) has been supporting a project to ease traffic congestion in Bangkok, Thailand. The first of the project's two phases sought to alleviate growing congestion around Sathorn Road through a two-pronged approach: promoting the use of diverse mobility solutions and smoothing traffic flows. These efforts succeeded in reducing the length of traffic jams and improving traffic flow.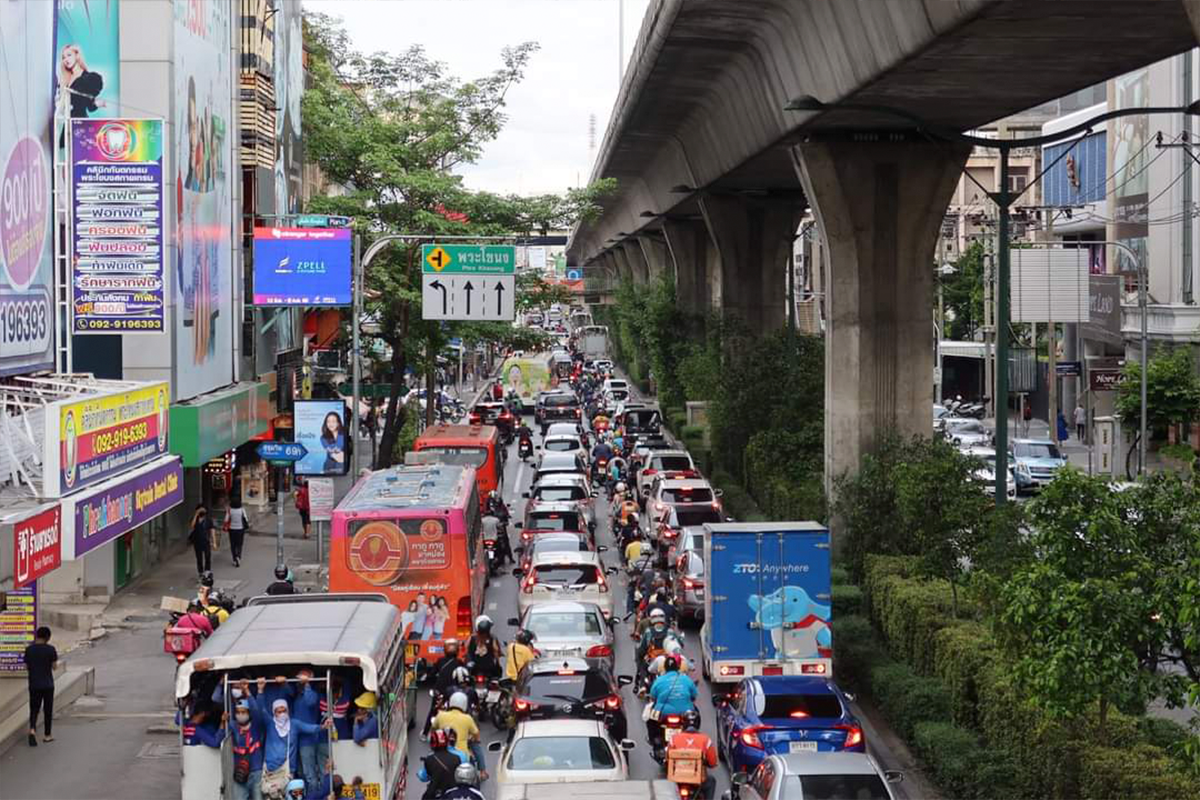 Bangkok's remarkable economic growth has been accompanied by a rising urban population and the proliferation of cars, turning severe traffic congestion into a social issue. Traffic is particularly concentrated on the main thoroughfares of districts where many schools, businesses, and commercial facilities are located. Congestion was most severe during the commuting hours of 6-8 a.m. and 5-7 p.m., and the problem continued to worsen.
Traffic congestion greatly impacts the lives of residents by making travel times to specific destinations both longer and less predictable. Whether in the form of delayed emergency vehicles or increased CO2 emissions, congestion also causes considerable harm to society as a whole.
Two-pronged approach to easing traffic congestion
This project was carried out as a cross-sector partnership between the Bangkok Metropolitan Administration, Thailand's Ministry of Transport, Royal Thai Police, Chulalongkorn University, and TMF. The heavily congested Sathorn area served as a model for the two-pronged approach.
The first aspect was promoting the use of diverse mobility solutions. These initiatives included a Park & Ride system that provides parking near stations to encourage travelers bound for the city center to transfer from private cars to public transportation; shuttle bus services to local schools; and a navigation app to facilitate the use of various transportation modes. The number of daily users reached 528 for the Park & Ride and 95 for the shuttle bus services, while the app was downloaded 2,549 times.

The second facet, smoothing traffic flows, consisted of measures to eliminate identified bottlenecks, such as the introduction of bus lanes and zones where parking or lane-changing was prohibited. At the same time, the team used cameras, sensors, and other tools to optimize traffic signal cycles. The effects of flow improvement measures were forecast via computer simulation and, after implementation, visualized using data from cameras and sensors. Forecasts were compared with actual results to enhance simulation accuracy as part of a PDCA cycle to continuously improve traffic flows.
Achieving solid results and identifying challenges
As a result of this two-pronged approach, the traffic congestion leading up to the central intersection on Sathorn Road was shortened by approximately 1km. Traffic flow (number of vehicles per unit of time) through the central intersection improved by 12.6%, and travel times over the most congested stretch between the two intersections improved by up to 68%. At the same time, the project also highlighted issues, such as cost, which would need to be addressed in order to implement these measures across all of Bangkok.
In the first phase, the project trialed traffic management strategies such as a Park & Ride system, shuttle buses, and traffic signal optimization in order to regulate transportation demand and improve flows. The team compiled the results and findings into a Roadmap for easing traffic congestion, which was presented to the Thai government. Together with achieving solid results, the project also identified issues to be addressed when expanding these efforts in the future.
Pursuing further achievements in Phase 2
Building on the outcomes of Phase 1, in 2019 the project entered its second phase, aiming to eliminate traffic congestion on Rama4 Road by focusing on movement data collection and AI-driven measures.
In addition to conventional traffic management methods, Phase 2 introduced the use of artificial intelligence and big data to analyze contributing factors in the areas where congestion originates, with the aim of easing traffic jams through more efficient systems. Specifically, the project team worked with the Bangkok Metropolitan Administration and Royal Thai Police to install numerous cameras and sensors along Rama4 Road. They obtained traffic flow data, as well as GPS data from taxis, public buses, and other vehicles, which was analyzed with the help of Chulalongkorn University and specialist providers of AI-driven traffic analysis and forecasting services. This makes it possible to visualize traffic conditions and identify trends and patterns that lead to congestion and other problems. The team plans to apply the findings from this analysis to traffic management systems, transportation network planning, and urban planning.
WBCSD SMP2.0 Sathorn Model Project - Final Report
*Report on the phase1 conducted on Sathorn Road, prepared by Chulalongkorn University.