Supporting the Development of Assistive Devices for Lower-Limb Paralysis – Mobility Unlimited Challenge
Seeking the world's innovative ideas for wheelchairs and assistive devices
In 2017, Toyota Mobility Foundation teamed up with UK-based innovation-focused nonprofit Nesta to launch Mobility Unlimited Challenge to discover and support the development of groundbreaking ideas for assistive devices to offer people with lower-limb paralysis greater independence and freedom of mobility. The best-judged entries received support to produce prototypes. In 2020, the winning team, Phoenix Instinct, was selected for its ultra-light intelligent wheelchair featuring front-wheel power assist and AI-driven center-of-gravity adjustment.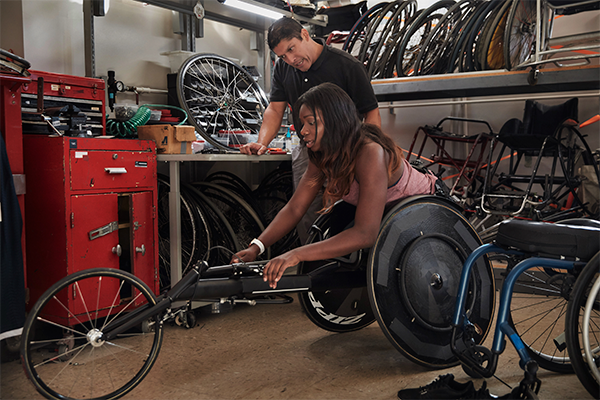 The World Health Organization estimates that cases of lower-limb paralysis due to stroke, spinal cord injury, multiple sclerosis, and other causes are growing globally by 250,000 to 500,000 people each year. Smarter mobility technology that recognizes and responds to an individual's physical condition and surroundings offers the potential to create revolutionary assistive devices. Despite this, innovation is stifled by the limited size of the market and the difficulty of obtaining approval for new products.
To encourage innovation, Mobility Unlimited Challenge promoted collaboration between users and innovators from around the world and supported the development of personal mobility devices with intelligent systems. (e.g., assistive devices with novel configurations, AI- and computer-driven self-learning functions, cloud computing features, innovative batteries, etc.)
An AI-powered intelligent wheelchair takes top honors
After the challenge's prototyping period, five finalist teams were announced in January 2019. The five teams then honed their prototypes with productization advice from the program's technical advisors at the University of Pittsburgh's Human Engineering Research Laboratories, Nesta, and related divisions at Toyota Motor Corporation.
In December 2020, a panel of expert judges evaluated the five final prototypes based on the criteria of technical innovation, usability, quality and safety, market potential, and social impact, ultimately selecting Phoenix Instinct's intelligent wheelchair as the winner. The team's wheelchair combines front-wheel power-assist and AI-driven center-of-gravity control technology for easier maneuvering and greater comfort. It also improves safety performance with a braking system that automatically detects when the user is going downhill.
Creating a society with freedom of mobility for all
Taking the stage to announce the winner at an event held on December 17, 2020, former President of the International Paralympic Committee, Sir Philip Craven (a member of Toyota's Board of Directors), commented, "Mobility means freedom. It means liberation from being limited in life. When we are free to move, we are able to fully participate in society."