Supporting Africa's Rural Communities
Transporting produce to market and carrying water present major daily challenges
Toyota Mobility Foundation (TMF) partners with NPOs and other organizations in Zimbabwe and Kenya to support mobility in rural areas.
In Zimbabwe, TMF assists Mobility For Africa (MFA), a nonprofit providing electric tricycle-sharing services to rural communities. Building on this work, TMF also supports rural communities in Kenya with the aim of boosting earnings and sustainability.
Rural areas of Zimbabwe and Kenya are home to many small-scale and largely subsistence farmers with limited means of transportation. Women often walk for long hours to carry milk, bananas, and other produce to the market. The need to travel on foot to fetch water for daily life further adds to the burden. At the same time, few transport options exist for getting children to school or residents to the hospital.
Easing the burden on small-scale farmers with electric tricycle sharing
Launched in 2019, the MFA joint project in Zimbabwe offers electric tricycle sharing in smallholder farming communities. These three-wheelers, which run on batteries that can be recharged by solar power, are intended to improve farmers' earning abilities and reduce the workload of women.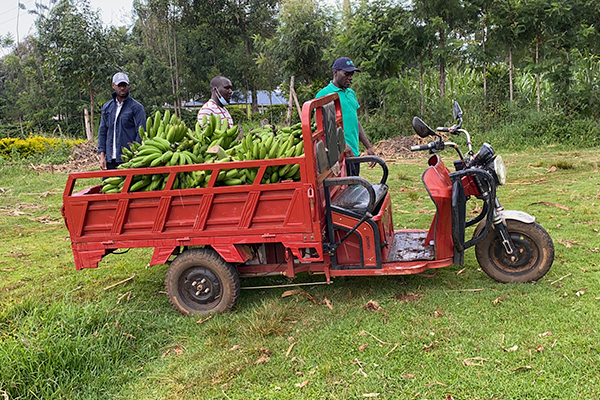 TMF utilizes digital technology to establish efficient produce collection processes and ridesharing systems. With assistance from local Toyota dealerships, the foundation also provides driver education, as well as 4S (Sort, Set in Order, Shine, Standardize) and safety instructions for electric tricycle maintenance shops.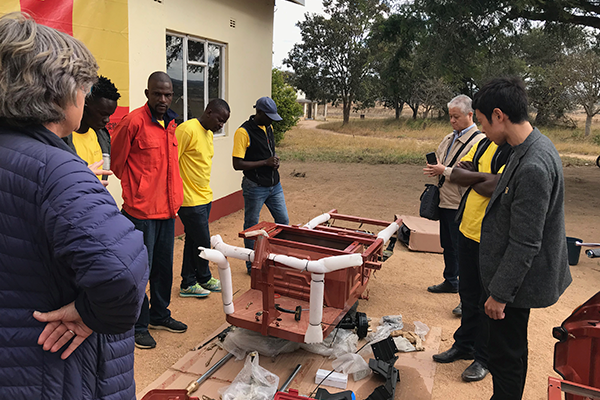 Strengthening efforts toward a sustainable model
The project in Kenya began in 2020 by building on the activities in Zimbabwe, working with partner NPO EASVRM toward more sustainable operations by expanding the sales channels and value chain for farm products and structuring businesses for increased earnings.
Specific initiatives include:
1. Improving earning capacity through efficient collection and transportation of milk, bananas, and other produce
2. Expanding the scope of activities managed using data and apps
3. With the cooperation of JICA, improving agricultural productivity and cultivation of higher value-added crops

These efforts make the collection and transportation of produce more efficient for small-scale farmers, helping to reduce the workload for producers and workers. They also lead to higher incomes for farmers by reducing produce lost due to inefficient cultivation or transportation.
The next step is to expand the scale of these initiatives, ensure stable financial support from new partners, and reduce costs to create a sustainable rural mobility model. TMF will seek to collaborate and work jointly with more organizations that have the knowledge and expertise to help improve the model and expand it to other regions.